Vendors
Dokan Multivendor Marketplace helps you to create your own 'Amazon & eBay' like websites in minutes. That means you can invite users to become your vendors, promote your marketplace, and sell products using your marketplace.
And you can set the minimum discount on each vendor. As a result, whenever your vendors make a sale, discounts or commissions will automatically be added to your account.
So you can swiftly handle all these things using Dokan – Multivendor Marketplace. And your users can easily create products from their dashboards, manage orders, and most importantly create their own stores.
Let's see how you can manage & list your Vendors using Dokan:-
Vendor Listing & Management
Navigate to WordPress Admin Dashboard → Dokan → Vendors
Here, you will be able to find all your vendors in a single place. Besides that, you will get all data related to your vendors.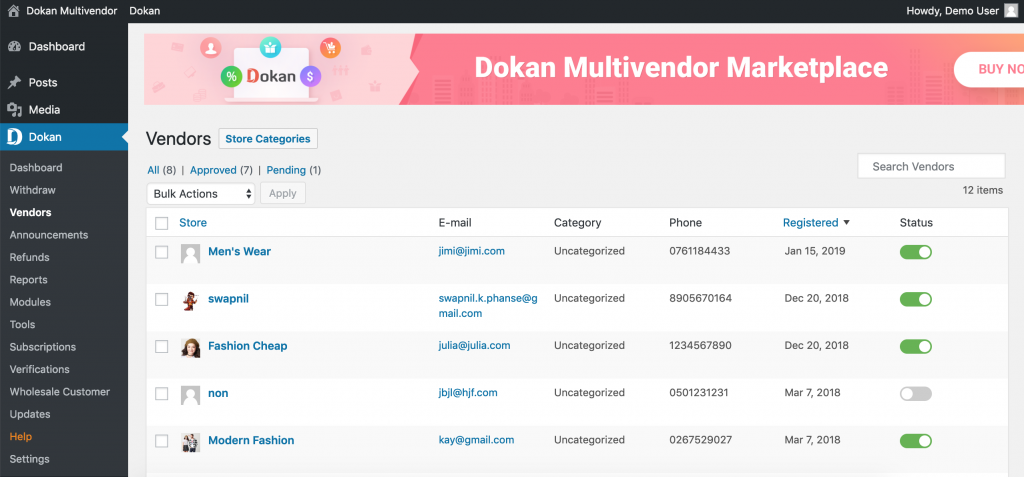 Also, you can find their details like store name, email, store category, and phone number. However, you can also enable & disable your vendors with a single toggle button.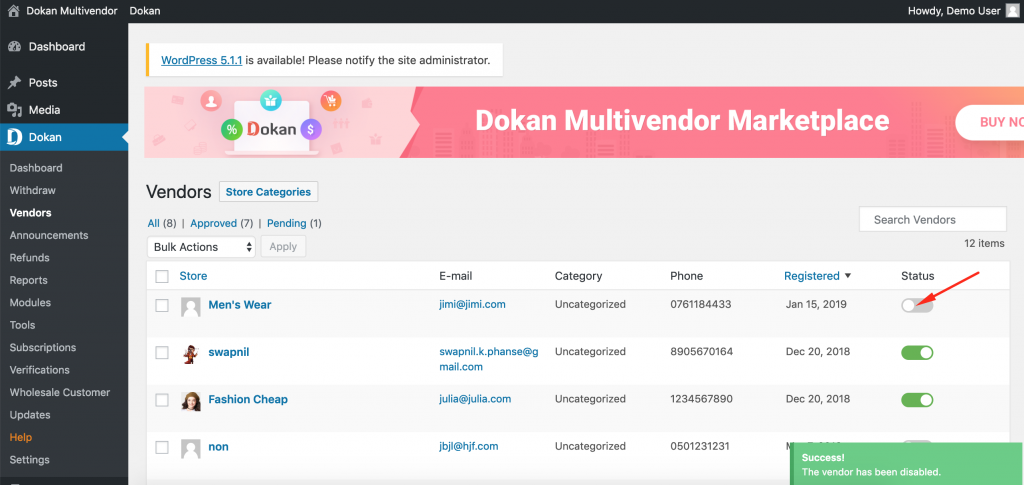 Editing Vendors
To edit your vendor's profile, simply just click on the vendor that you want to edit. The vendor store overview page will open.

Here, you will find more detailed information about your vendors. You can view their ratings and contact information. Also, you can send emails to them directly from this page. There is a link to visit vendor store and also edit if required.

The vendor summary section shows the total number of products, items sold, and visits. It also shows revenue and other information including commission rate, current balance, and reviews.
Finally, you can view their social profiles, payment methods, and conditions that you have set while accepting the vendor. At the top of the page, there is a back button that lets you go back to the vendor listing page.
Managing Vendor's Selling Capabilities
Dokan is the best Multivendor Marketplace for WordPress. You can easily manage thousands of vendors and get commissions from their sales. In this doc, we will discuss the selling capabilities of vendors, how admins can enable or disable them, and how to set vendor commission.
Enabling Selling Capability
At first, you need to activate your vendors' selling capabilities so that they can start selling on your marketplace.
To do so, Navigate to WP-Admin → Dokan → Vendors
You will find the vendor list. On the right side of every name, you will find a toggle button as shown below. Simply turn on the button to make a user active or turn it off to make a user inactive. It will automatically enable or disable their selling capabilities.
The filters above categorize your vendors. Simply click on them and you will be able to see the list of all Approved vendor requests and all Pending requests.
You can also view your vendors' Products and Orders from the Username column. Similarly, you can change their selling capabilities & remove their permission.
Set Vendor Commission
You can set vendor commission for your marketplace depending on many things. Here, we will focus on the global commission for your vendors. You can read about different types of vendor commissions from here.
To define the vendor commission for your vendor, navigate to WP-Admin→Dokan→Settings→Selling Options Tab then choose the Commission Type, then Admin Commission.
Product Publish Status
You can easily define whether the new product will publish directly or will go to Review first.
To do this Navigate to WP-Admin→Dokan→Settings→Selling Options Tab, then "New Product Status".
Trusted Vendors
You can give the extra opportunity to your Trusted Vendors to add a product directly without pending!
To do this, you need to navigate WP-Admin→Dokan→ Vendors. Then go to any vendor's profile by clicking the username or go to WP-Admin→Users then edit the user profile.
After that navigate to the end of the profile,  you will find the "Publish product directly" option, just enable this option!!
Now your Trusted Vendor is ready to Publish the Product Directly.
Seller Listing
To see the list of all registered Vendors, you need to navigate WP-Admin→Users→All Users.
From here, you can get a bird's eye view of your vendors. You can easily learn about their store name, email address, number of products, earnings, balance, contact information and also their selling capabilities. You can also view their user roles – Administrator, Customer, and Vendor. And also view the full lists of users categorized with filters.
However, check out the video tutorial on how to manage vendor's selling capabilities.
Vendor Store Category
Dokan Pro has included the Vendor Store Category feature. With it, you can set some specific categories for your marketplace. Your vendors can choose from those categories and set one or multiple for their stores. This greatly helps in making vendor stores easily visible and searchable throughout your marketplace.
Enabling Store Categories
Only, marketplace owners or admins can create store categories. Vendors do not have the authority to create them.
To create store categories, you have to enable it first. Navigate to – WordPress Admin Dashboard → Dokan → Settings → General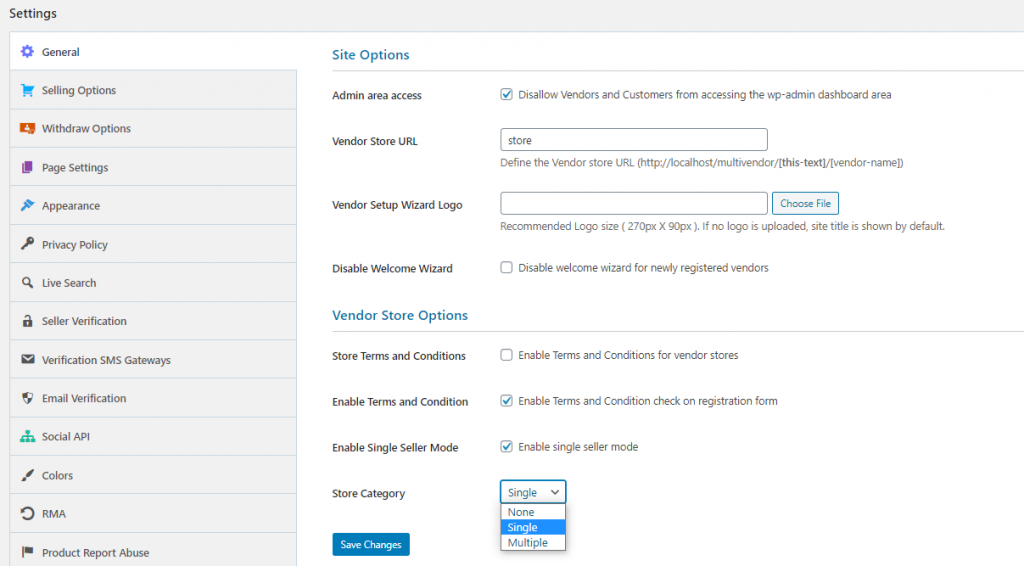 Scroll down and you will find the Store Category option. You can select either Single or Multiple categories for your vendor stores. If you wish to disable it just select None. Save changes.
Creating Store Categories
Now, navigate to WordPress Admin Dashboard → Dokan → Vendors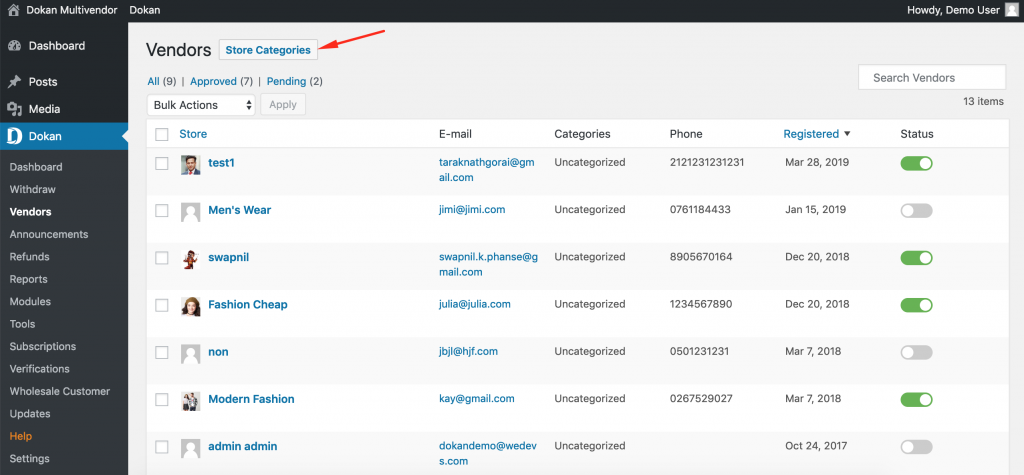 Click on the Store Categories button and you will get the options to create store categories for your vendors.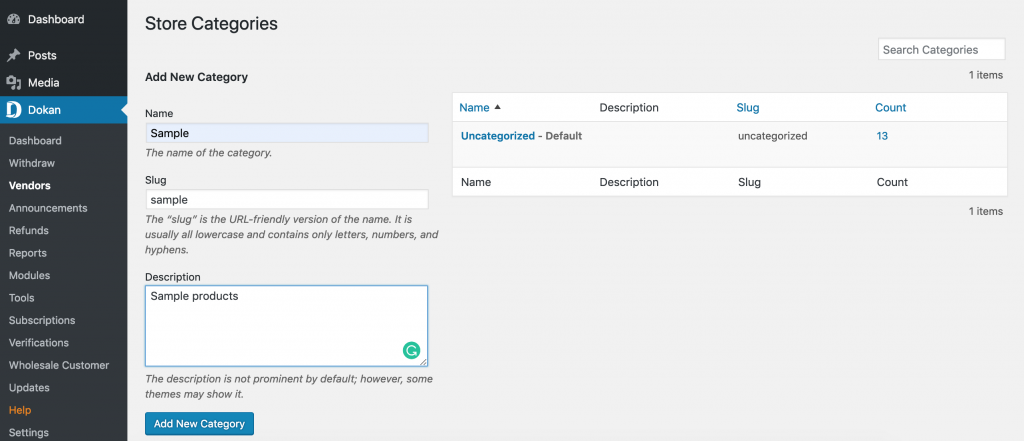 Put the name, Slug and Description and hit the Add New Category button. Your category will be created successfully.
How to Add Vendor Store Category
Now, you can set categories for your vendors. Simply go to vendor listing page. Click on the vendor you want and you will see their overview page.
Click on the Uncategorized shown in the screenshot.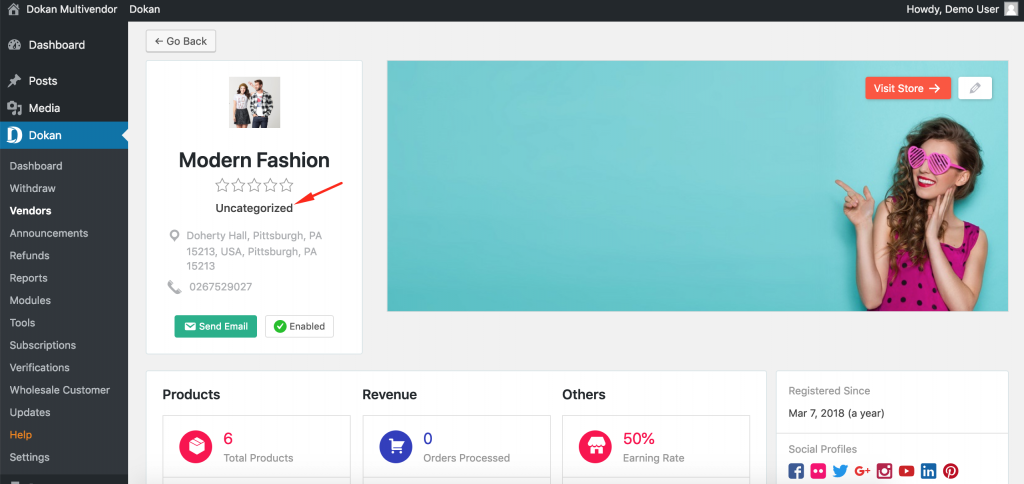 You will get the category selection page. Select the categories you want and save changes. If you have selected Single category on the settings page, then you will be able to select only one and for multiple, you select as much as you want.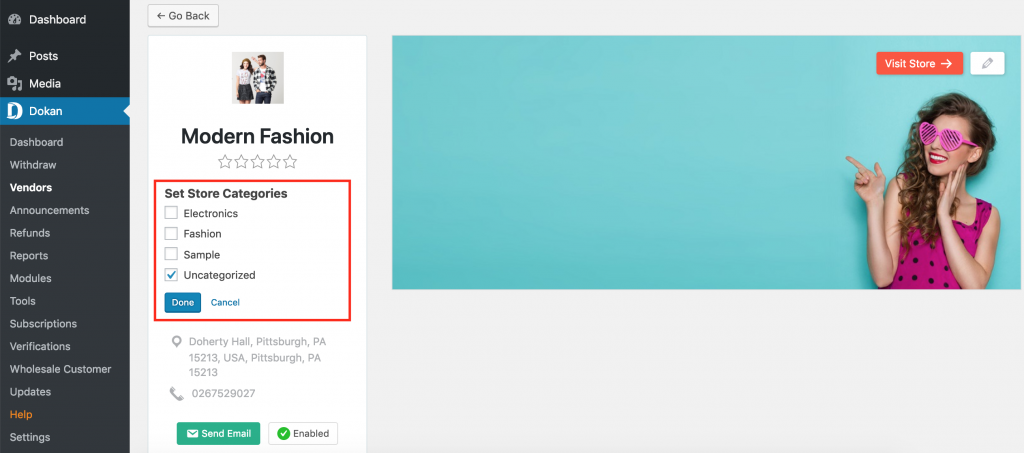 How Vendors will Add Store Categories
When there are enough categories that have been created by the Admin, vendors can select store categories from the Dashboard.
Vendors will have to navigate to the Vendor Dashboard → Settings → Store. There is an option to select categories that Admin has created. Vendors can select the one that they feel appropriate.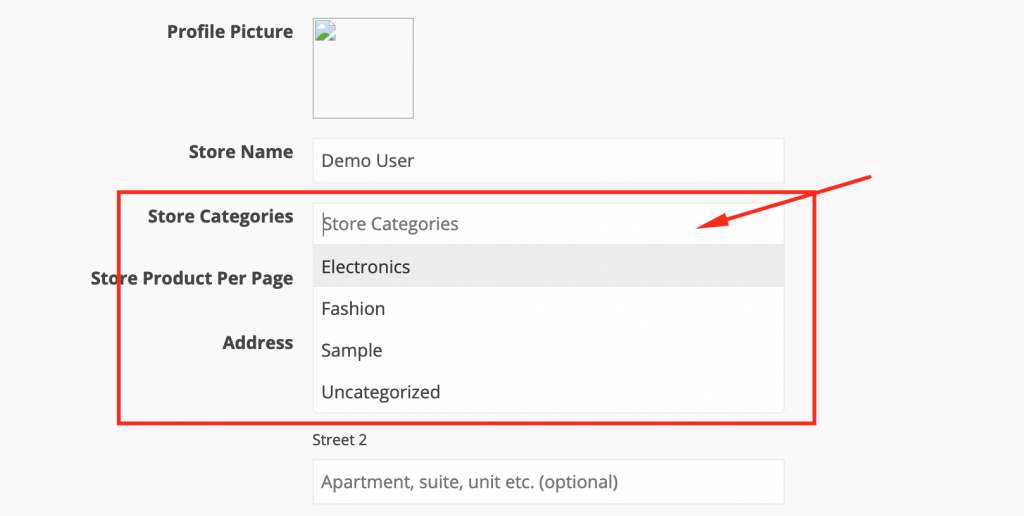 Filtering with Store Category
When you have the Geolocation Module enabled, your users/ customers can easily find vendor stores using store categories.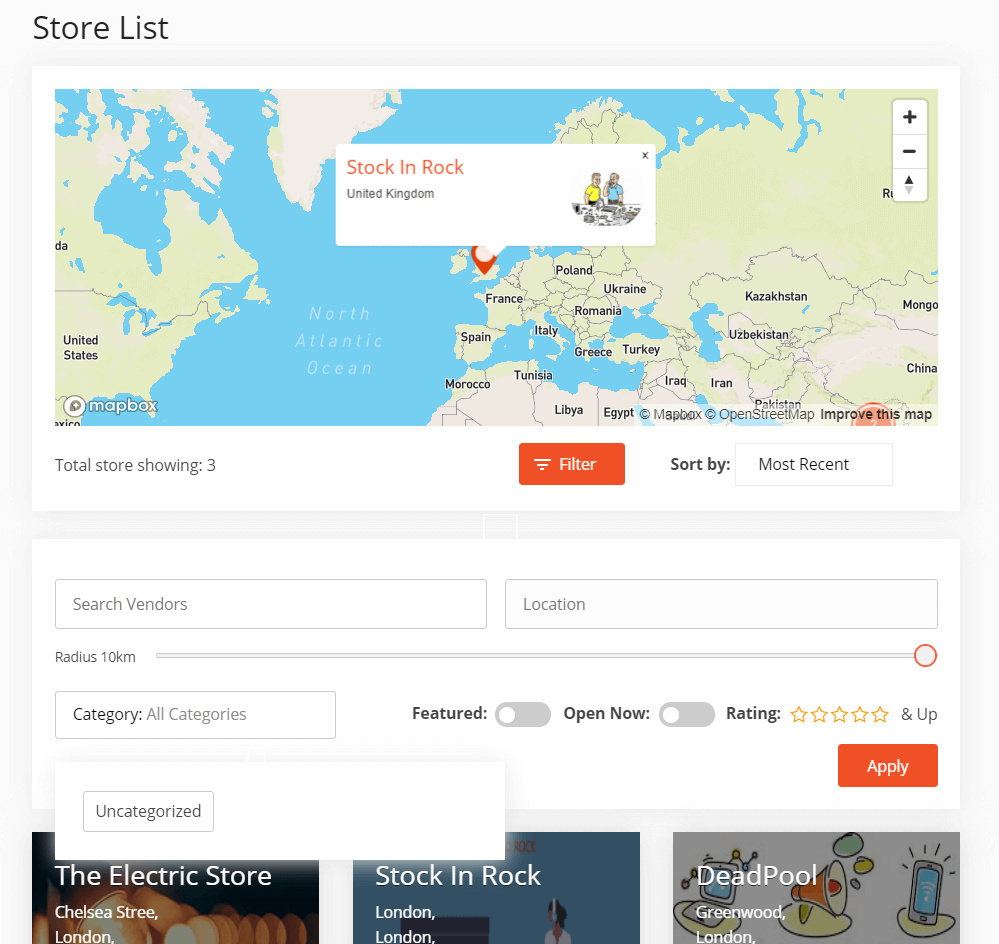 On the Vendors menu or page, customers can view the geolocation filtering option. Now, there is another filtering field named 'Store Category'. Your customer can select the category from the dropdown menu and easily find vendor stores.
Click on the Filter button to enable the options.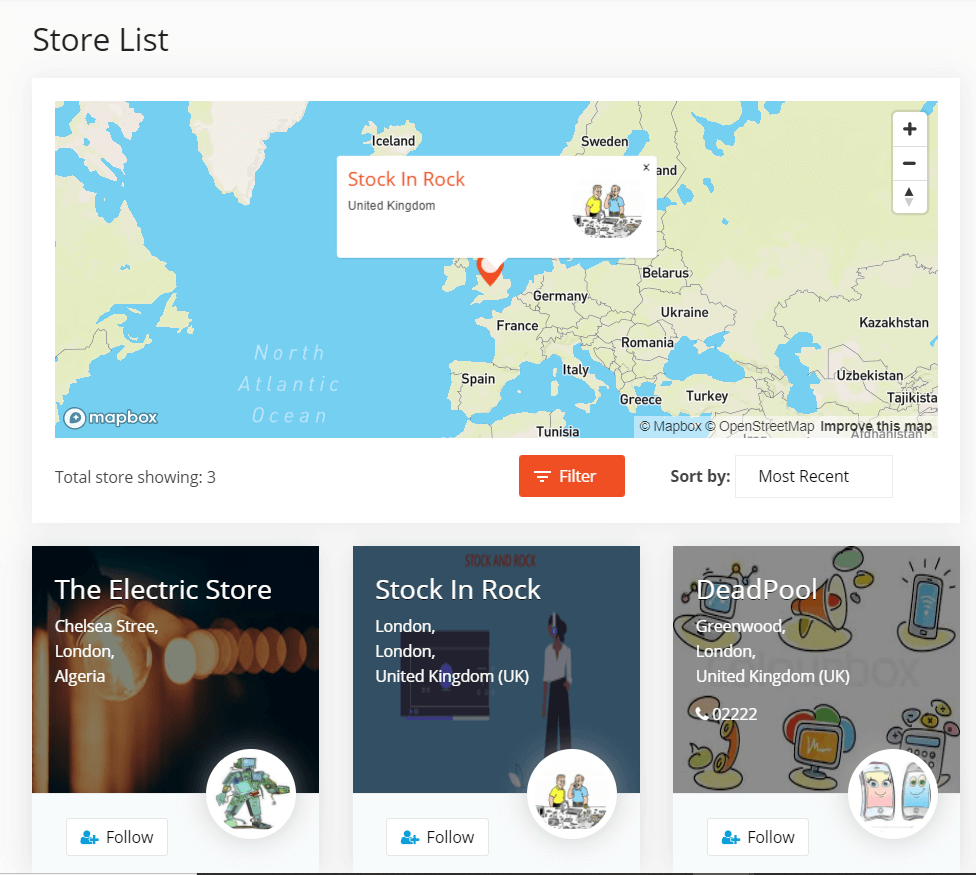 You can search by categories, location, vendor store name, featured, ratings.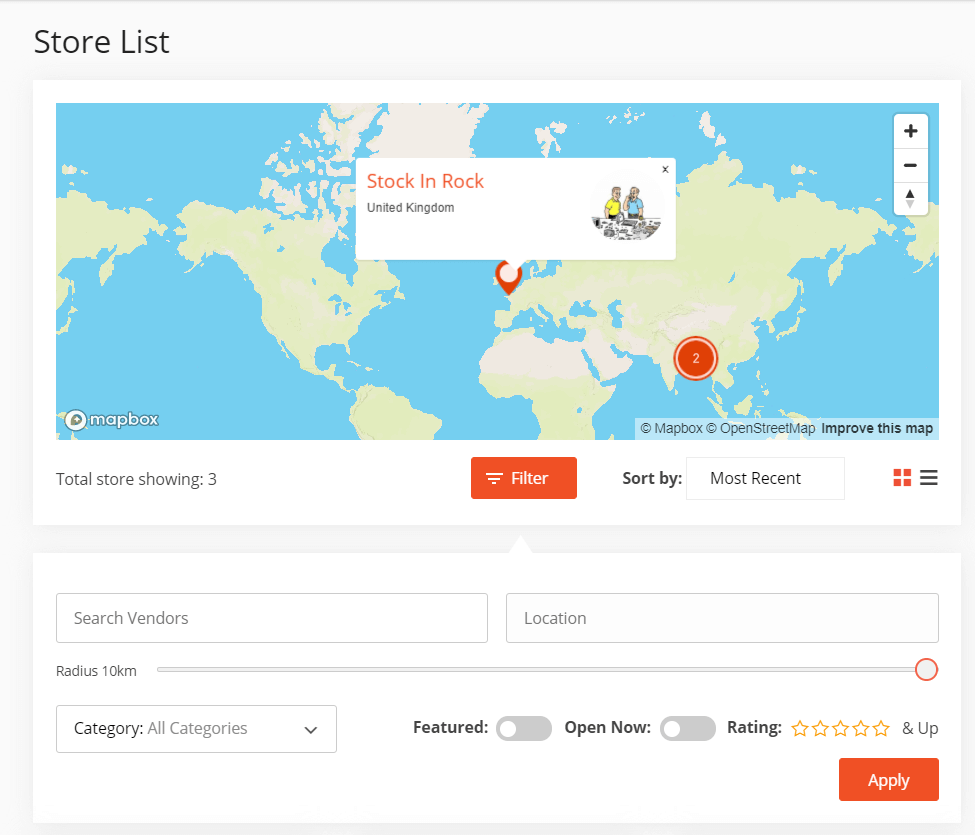 There are also options to sort the vendors according to Most Recent, Most Popular, Top Rated, Most Reviewed. Select anyone from the drop-down box.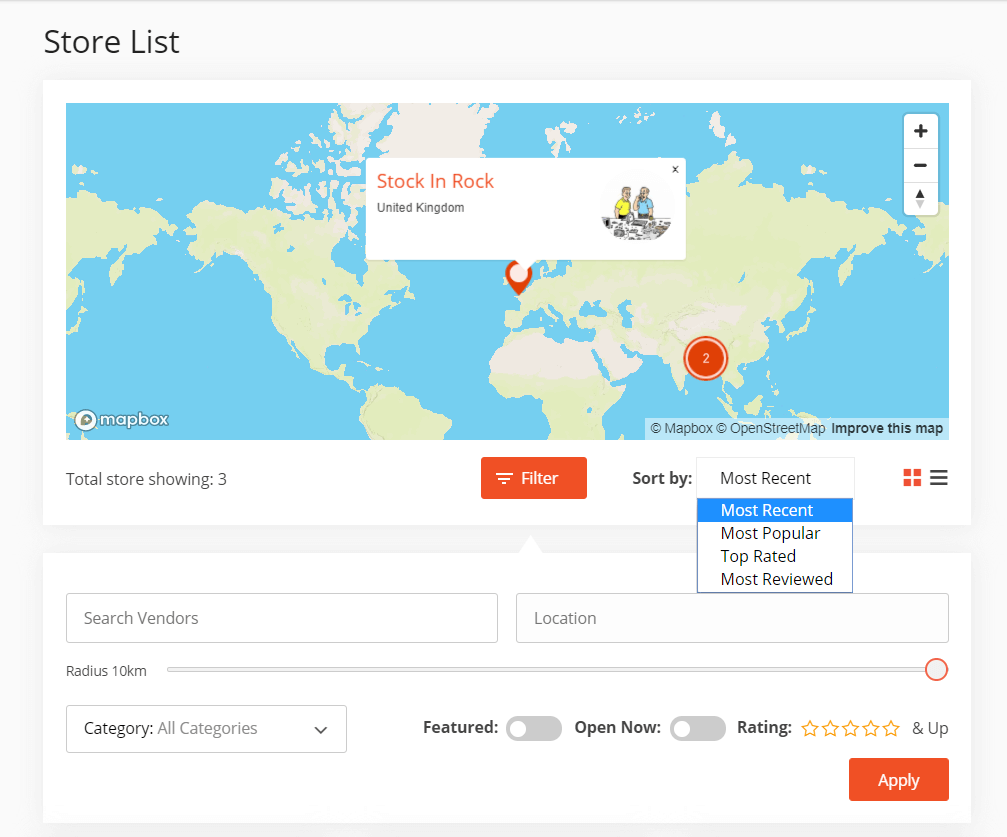 You can view the vendors in List view or Grid view.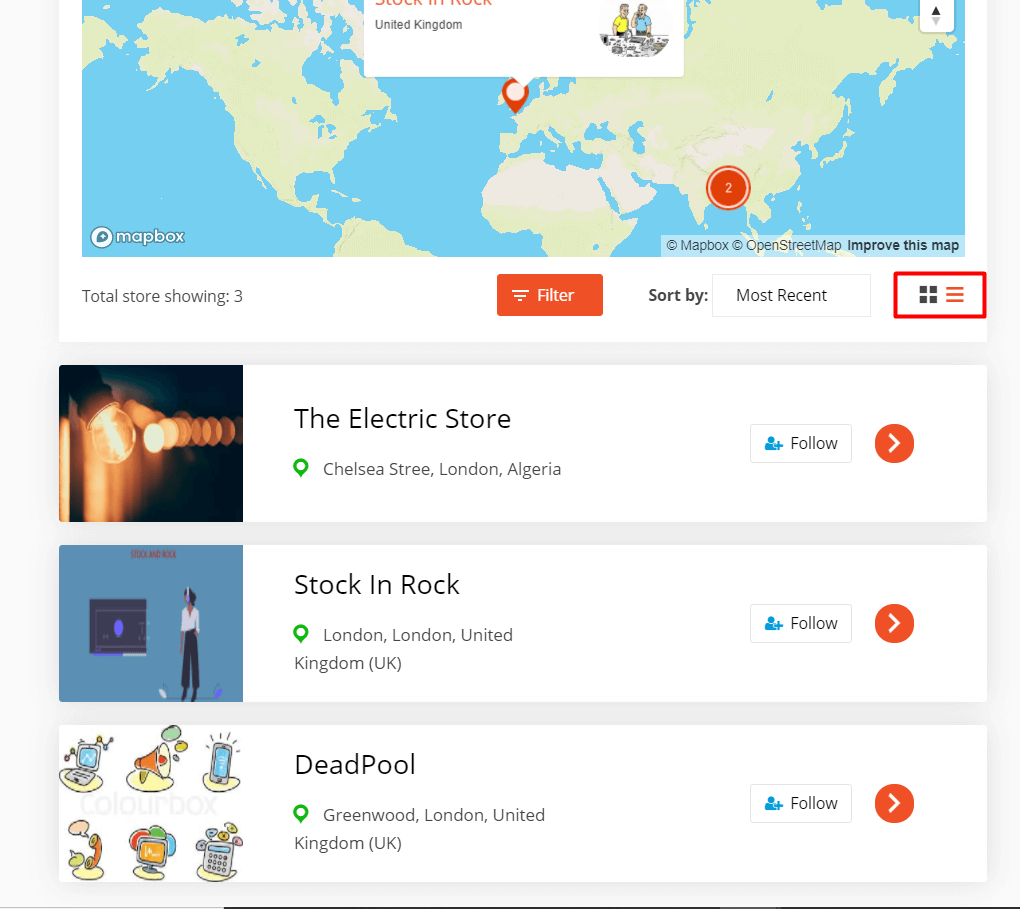 It is up to you. You can try different combinations to search for your desired vendors.
Creating Brands For Online Store
Dokan Pro included a useful feature where vendors can set a brand for their products from an existing Brand list. And the interesting part is vendor could only set the brand created by the admin.
Requirements
Before you start creating brands, let's check out the requirements below:-
How Admin Will Create Brands
First of all, you will need to login to the WP Admin Dashboard > Products > Brands.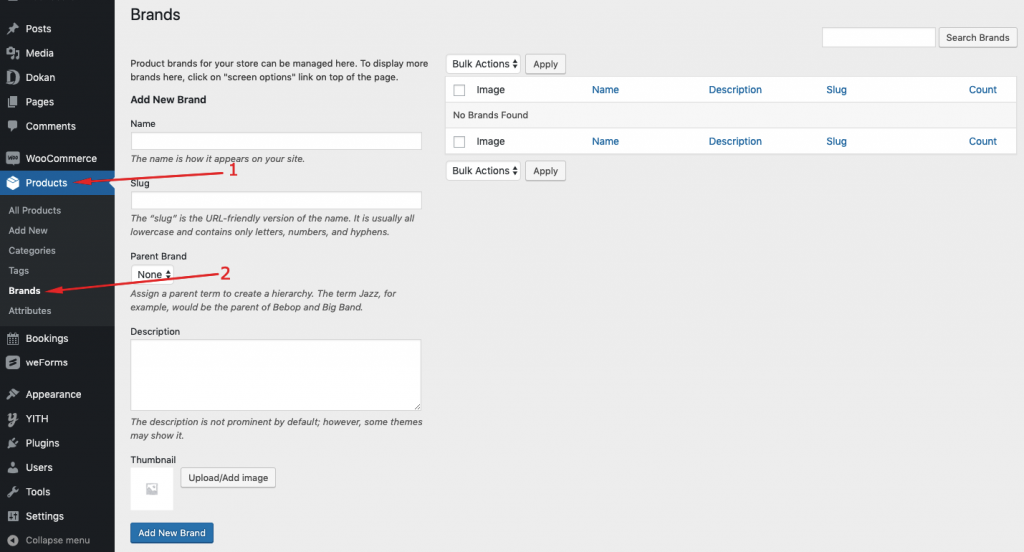 After that, you will have to fill out the fields, select a parent brand (optional), upload or add image.
Finally, hit the "Add New Brand" button to create the brand. You will be able to see the brand you just created.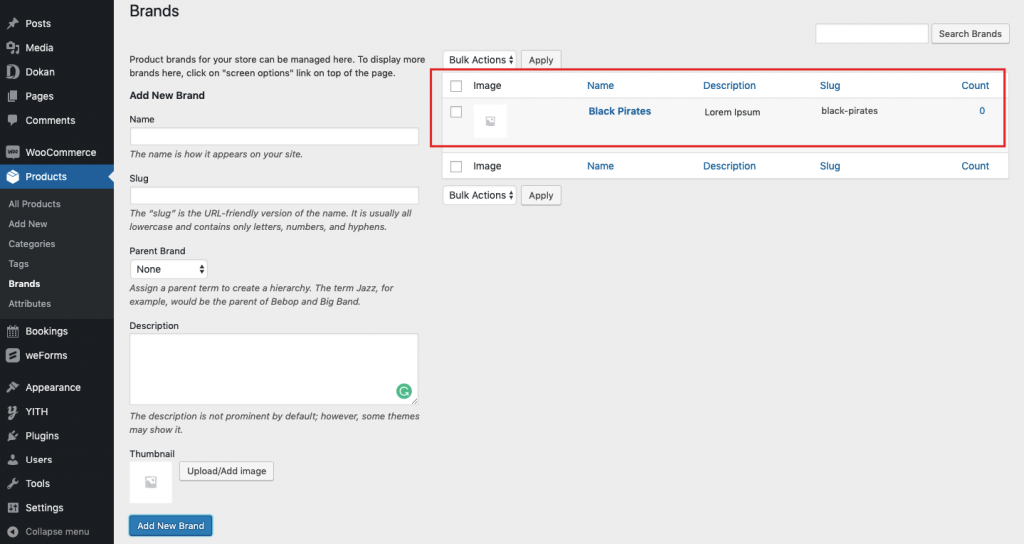 If you create multiple brands, they will appear in a vertical list: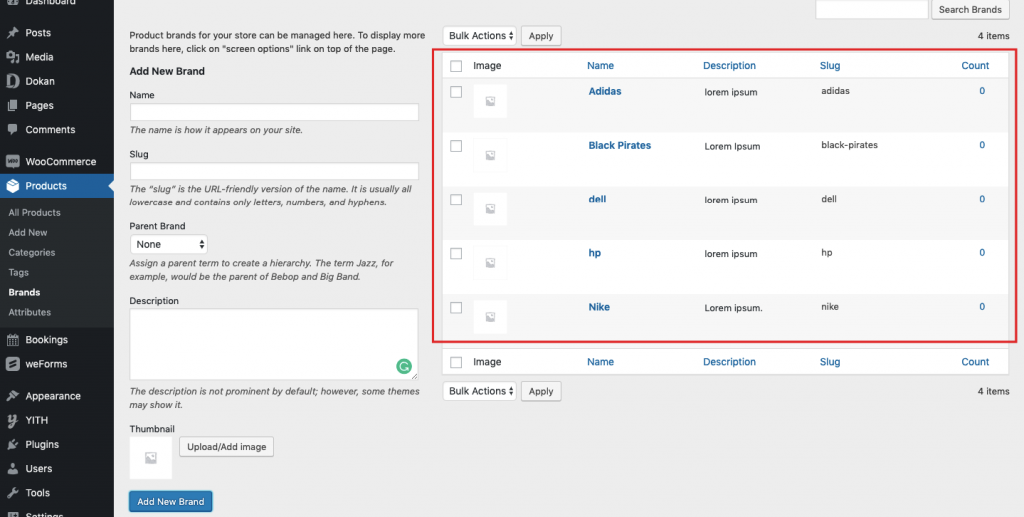 How the Vendors Will Set the Brands?
The vendors can only set brands from a list of already created brands by admin.
Adding Brand for a New Product
As a vendor, to set brands for a product you have to go to his/her Dashboard > Products.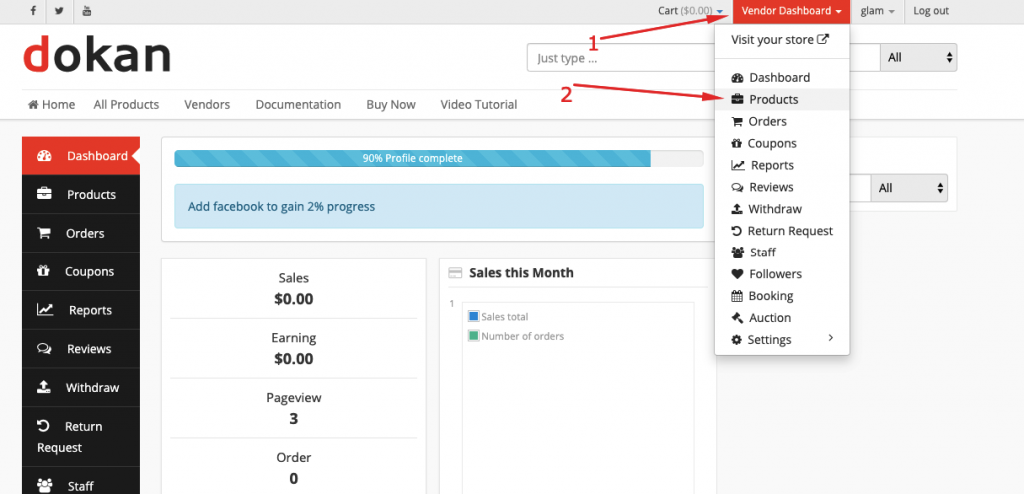 Next, click on add new product: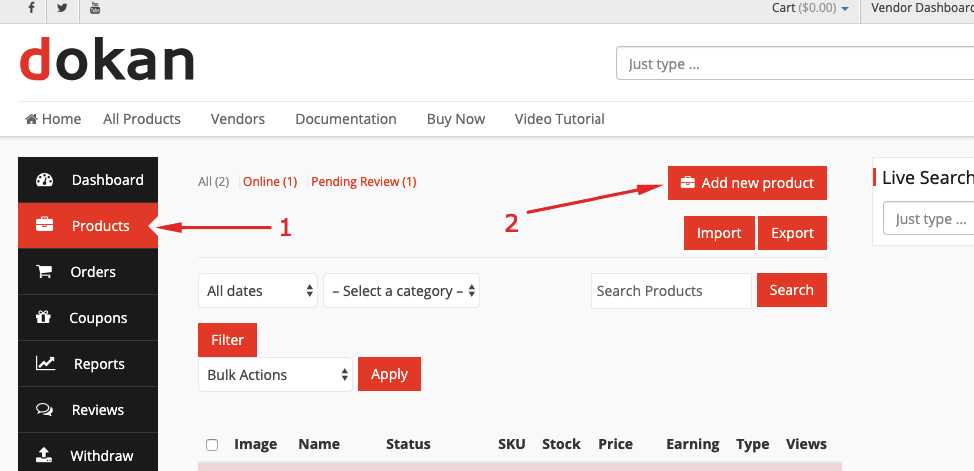 Then, you will get the options to add brand with all other options while creating a product.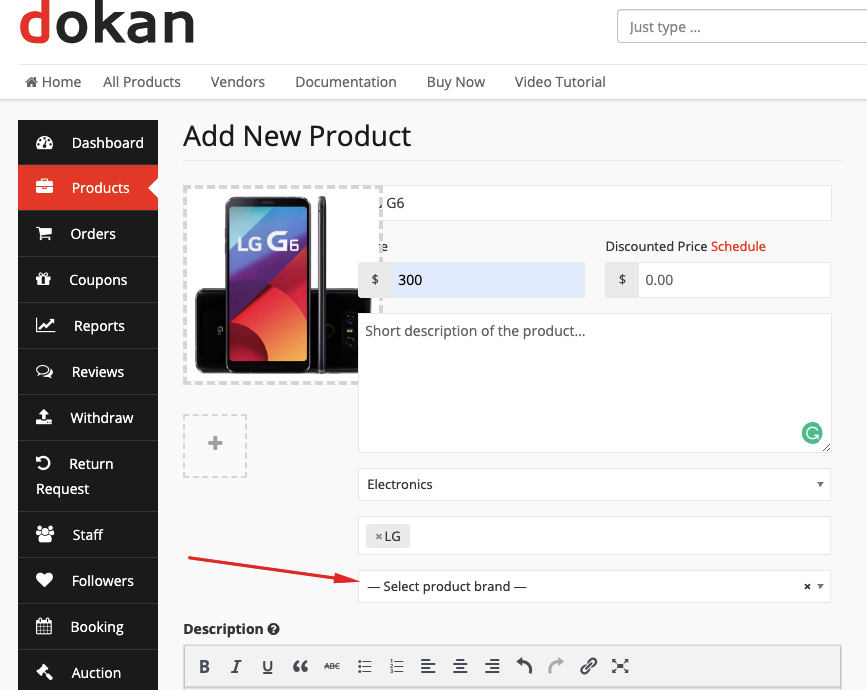 Select the Brand name from the dropdown menu: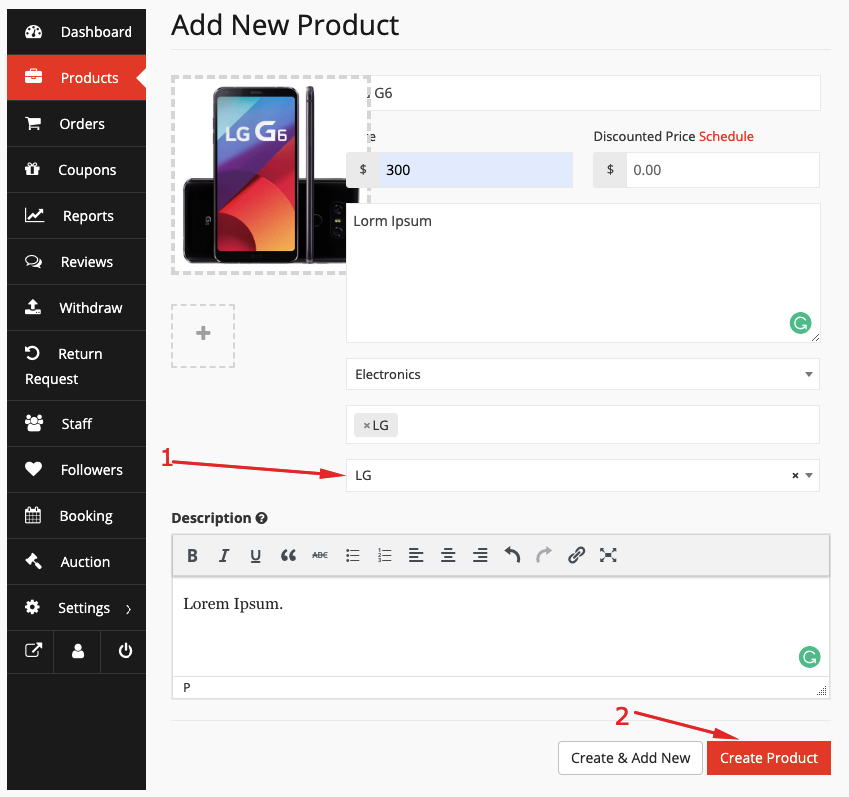 Finally, hit the "Create Product" button to finish adding the brand.
Adding Brand for an Existing Product
To add brand for an already existing product, go to your products > select the edit option from a product by hovering the mouse pointer on it.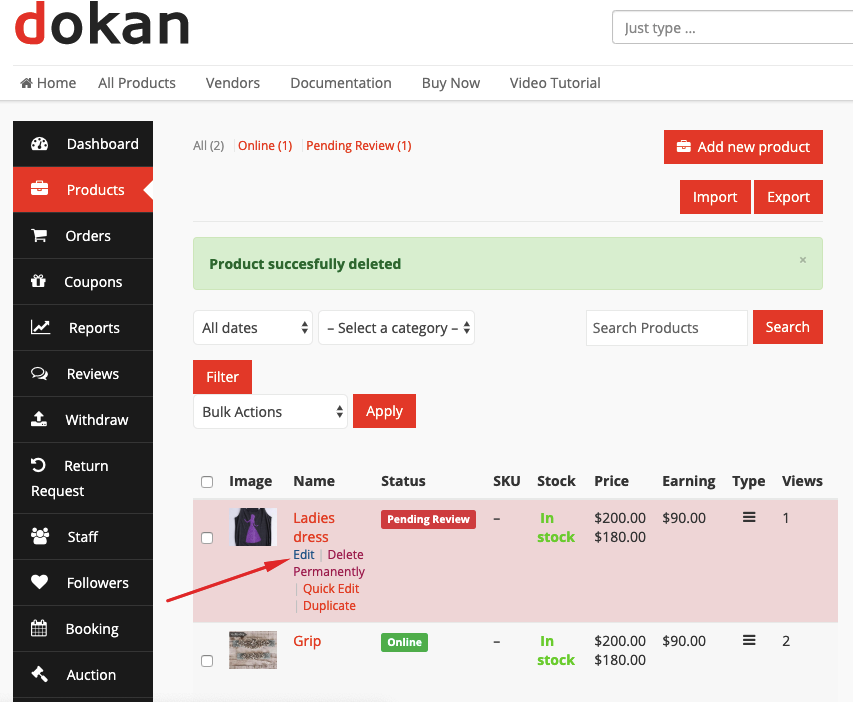 After that, scroll down to get to the Brand option: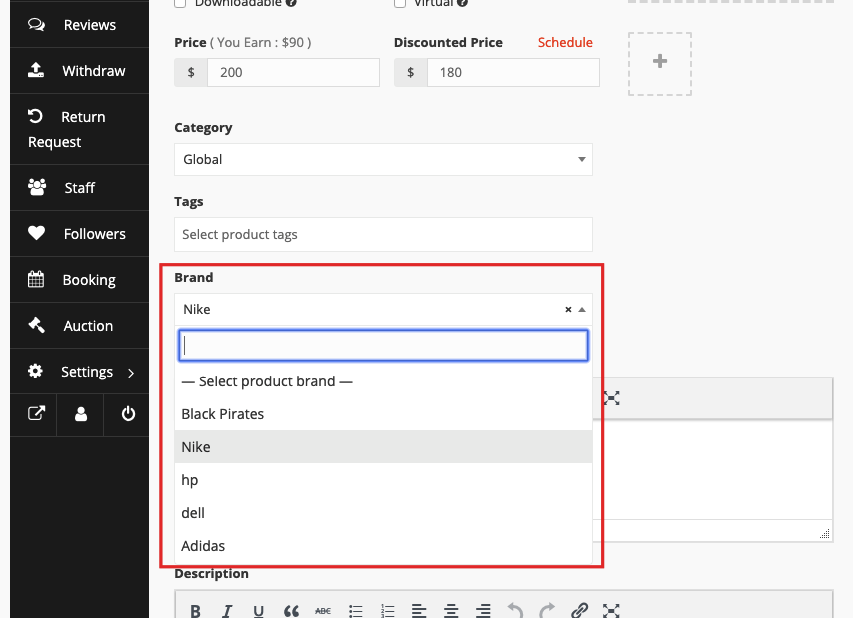 Now, select the brand for your product and click the Save Product button.
That's all about Branding.
Adding New Vendor from the Admin Backend
Vendors are an essential part of an online marketplace. Because they do trades by selling their products and admin gets the commission for each sale. So Dokan has the features to create, add, and customize vendor profiles easily only using the Dokan backend.
So let's check out the documentation below and follow the steps carefully.
Creating a Vendor Profile
To create vendor profile, navigate to the Admin Dashboard > Dokan > Vendors > Add New.

Once, the admin hits the "Add New" button, he or she will get a form in the form of a modal window containing the necessary fields to add vendors.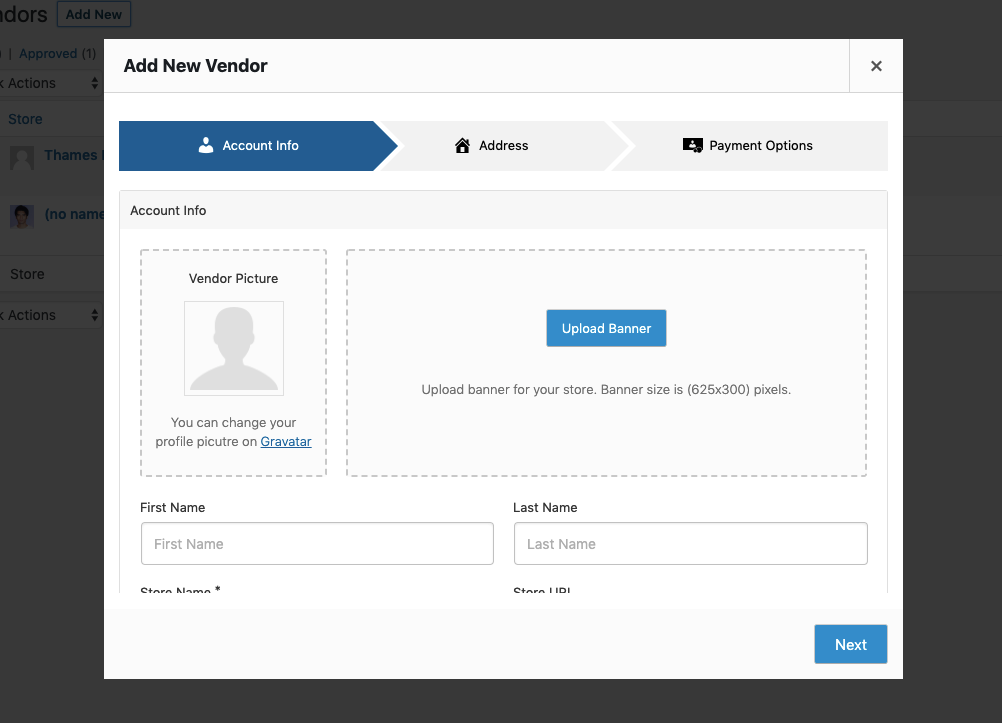 The admin has to fill out the fields in three steps. In the first step, the admin will set the account information of the vendors. In the second step, the admin will fill out the Address. Finally, the admin will set the Payment Options.
Step 1: Adding Account Info
The admin will have to add photos, upload a banner image, fill out the vendor's name, email, phone number, username and he can also set a password for the particular vendor that the admin wants to create. Then he or she has to click on the next button.
(Please note that, if you do not fill out any required fields then you won't be able to go to the next steps.)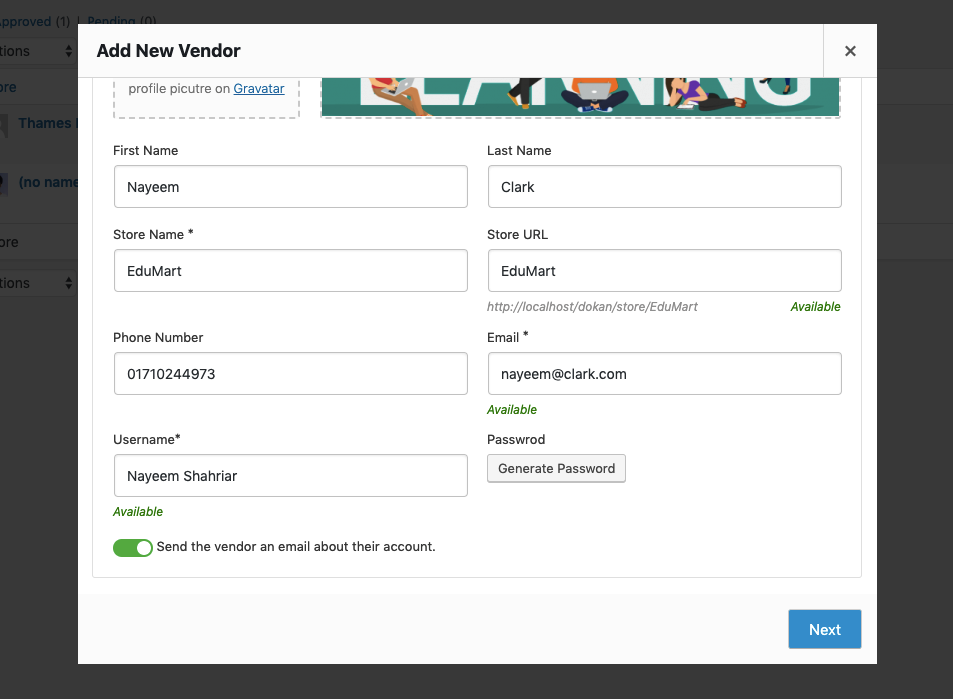 Step 2: Address
At this stage, the admin will input the address of the vendor and click on the next button to proceed.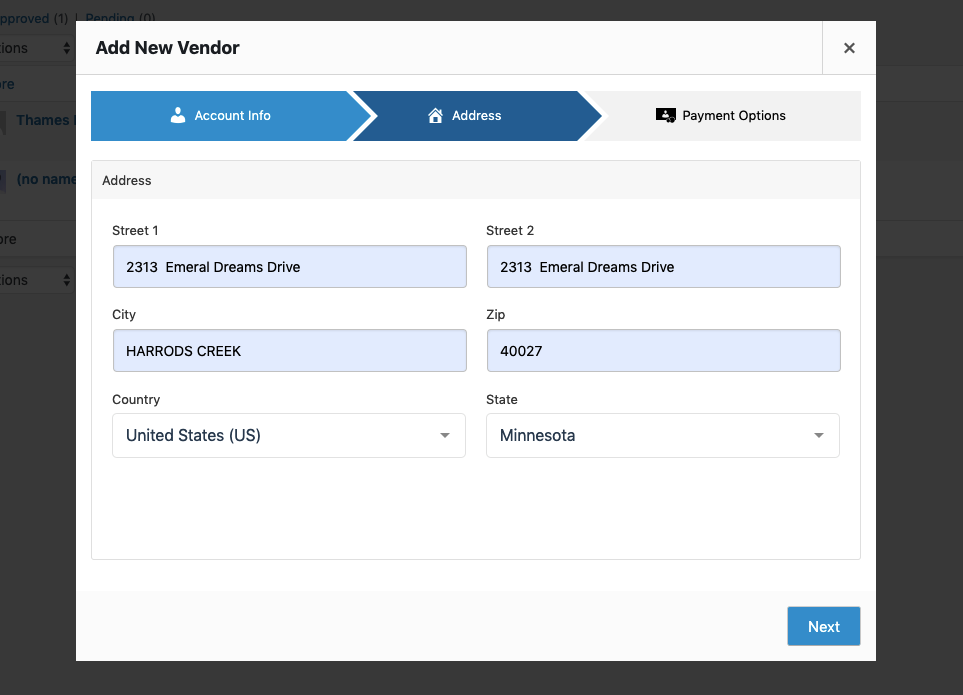 Step 3: Payment Options
Finally, the admin will enter the bank account credentials and the PayPal email of the vendor: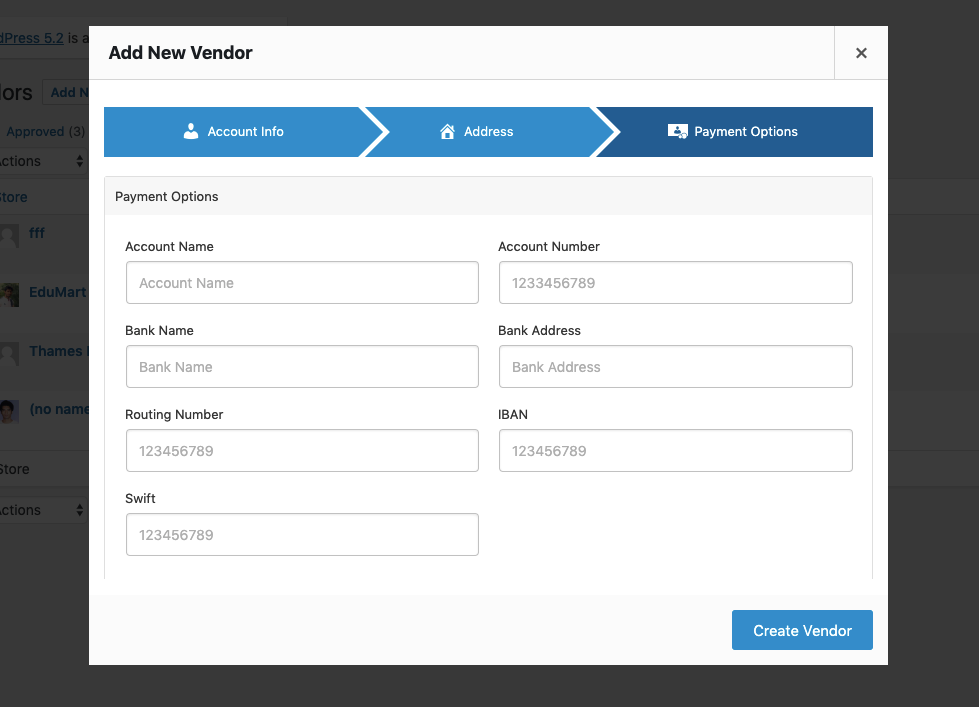 The admin can also enable their vendors to sell their products, publish product directly and make a vendor featured. Finally, the admin needs to hit the "Create Vendor" button to create the vendor.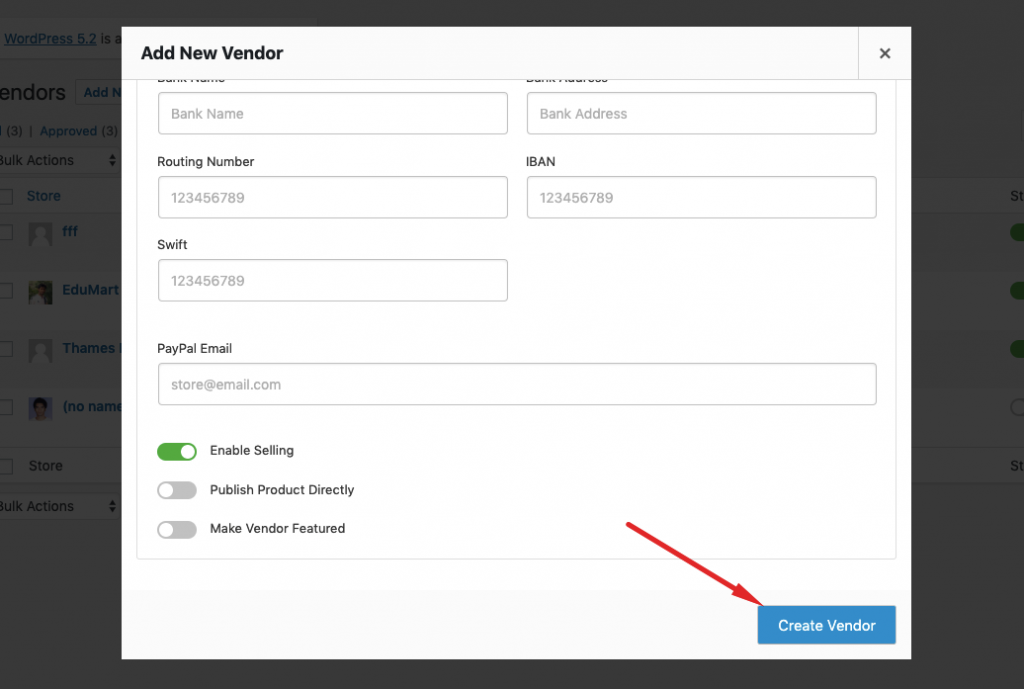 Here is how the vendor will be visible in the vendors' list:
This is how the admin can add vendors from the Vendors option of Dokan. However, the admin can also add vendors from the WP Admin Dashboard > Users > Add New User > Change the role to vendor.
Vendor Switching
Dokan Lite has introduced this new feature Vendor switching. It is a small feature but it is quite handy. This feature will allow admins to switch between admin and vendor roles quite easily.
Therefore, as an admin you can easily test and customize your vendor stores without having to logout and login frequently.
Let's see how to enable this feature.
Setting Up Vendor Switching Feature
Navigate to WP Admin -> Dokan -> Settings and select the Selling options.
Now, enable the Vendor Switching option. Click on the Save Changes button to finish.
Now, there is a catch. If you have the User Switching plugin already installed then the feature will be enabled. However, if you don't have it installed then Dokan will give a message to install the plugin.
You can click the Install Now button to directly install the User Switching plugin. It's free!
After installing the plugin, navigate to WP Admin -> Dokan -> Vendors. When you hover over any vendor name, you will see a option Switch To.
You can click on it to switch to that particular vendor account.
If you want to switch back to the admin account, just click on the profile and you can select option, Switch back to the admin.
See, how simple this feature is.